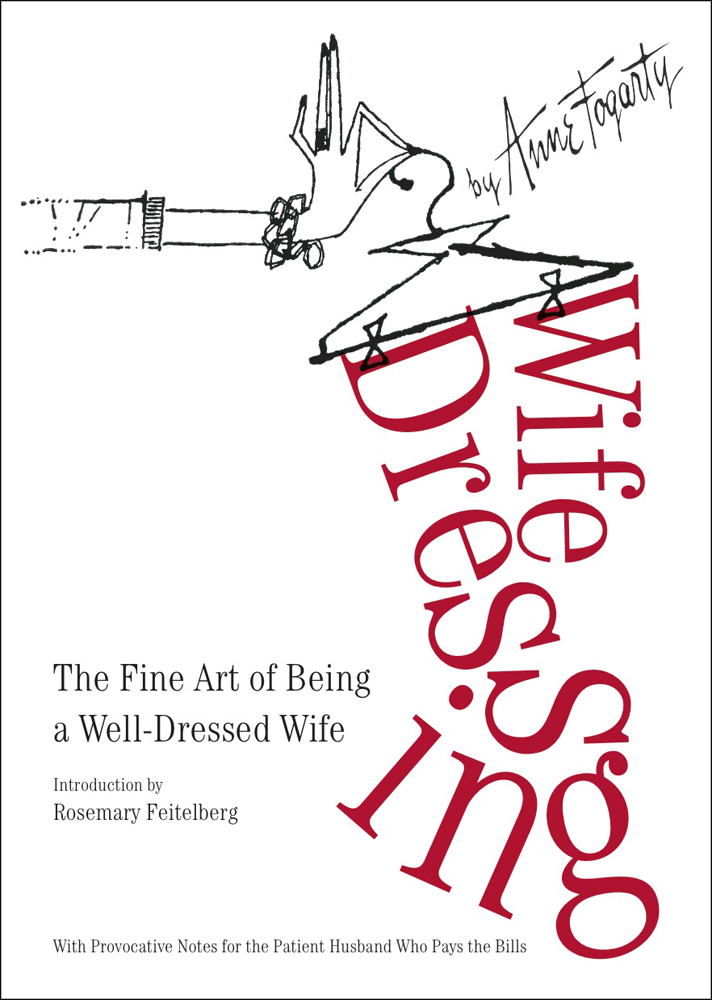 Wife Dressing
The Fine Art of Being a Well-Dressed Wife
Log in
to add this to your wishlist.
Share This Book...
Complete with checklists that help chart a wardrobe plan and indispensable tips on everything from traveling to entertaining, this authoritative guide will strengthen every fashion I.Q. and aid in the search for the elusive quality of "chic"
Includes helpful suggestions for avoiding fashion traps, wise spending, and even has quick remedies for banishing the "haven't-got-a-thing-to-wear-mood," providing all the while that there is indeed a fine-and perhaps lost-art to looking good for every occasion
Full Description
Wife Dressing: The Fine Art of Being a Well-Dressed Wife
is a republishing of a fashion classic, with an updated introduction from fashion commentator Rosemary Feitelberg. Fashion icon Anne Fogarty's advice for the style-conscious woman is every bit as witty today as it was when it was originally published in 1959. Feitelberg's additional text contextualises Fogarty's original concepts, underscoring how Fogarty's observations and expertise still hold true. Anne Whitney Fogarty designed the American look, creating clothes that were youthful, simple and stylish. Although Fogarty studied drama at the Carnegie Institute of Technology in Pittsburgh, Pennsylvania, her real love was for the costumes she wore. Moving to New York she worked as a fitting-model for Harvey Berin while looking for acting parts. When she received an acting job, Berin encouraged her to think about becoming a stylist instead, and in 1948 Fogarty began designing clothes for the Youth Guild. Youth Guild's market was teenagers, who were perfect for the narrow waist and full skirts of the "New Look," a style Fogarty used. In 1950 Fogarty began designing junior-sized clothing for Margot, Inc. She still favored the "paper-doll" silhouette for both day and evening wear, with its full skirt, narrow waist, and fitted bodice. To help create the shape, she adopted the idea of crinoline skirts from the Edwardian age. These stiffened petticoats made of nylon net, frilled or trimmed in lace, helped hold out the skirt and Fogarty encouraged wearing two at a time to enhance the silhouette. She herself had an 18-inch waist. Fogarty wrote a book called
Wife Dressing
in 1959, a guide for "the fine art of being a well-dressed wife with provocative notes for the patient husband who pays the bills." In the book she recognised that women led varied lives working, as students, wives, and mothers, and encouraged women to find their own style and colour recommending an understated, natural look that did not slavishly follow the fashion of the day. Fogarty produced different design collections under the names of A.F. Boutique, Clothes Circuit, and Collector's Items. In 1950 she was selected as one of the Young Women of the Year by
Mademoiselle
magazine. In 1951 she received a Coty award for dresses and in 1952 the Neiman Marcus award. Although she closed her own business in the 1970s, Fogarty continued to design. She finished a collection for Shariella Fashion in 1981, just months before her death in January 1981. During her career Fogarty worked with a variety of silhouettes and fabrics, in a broad range of sizes. She was a prolific designer who was able to adjust to a changing market, responding with designs that typified the all-American look. Contents: Wife-Dressing; Breaking the Rules; You Can't Go Home Again; After the Trousseau, What?; The Care and Feeding of Your Wardrobe; The Two-Faced Goddess-Taste and Money; The Art of Being at Home at Home; The Wifely Art of Courage and Discretion; Am Wife-Will Travel; A Faint Cry in the Wilderness of Pardon Me While I Breathe Fire; Some Very Personal Answers to Some Very Personal Questions; Never Underestimate the Power of a Man; The Delicate Matter of Bargains; Chic-ology; A Glossary and Friendly Guide to Fashion Jargon .
Specifications
Publisher

ISBN

9780979338427

Published

1st Jan 2019

Binding

Hardback

Size

218 mm x 162 mm

Pages

191 Pages

Illustrations

color, 5 b&w