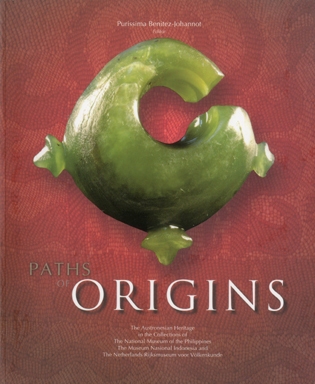 Paths of Origins
The Austronesian Heritage
Log in
to add this to your wishlist.
Share This Book...
'Paths of Origins: The Austronesian Heritage' - In the collections of the National Museum of the Philippines, The National Museum of Indonesia and The Netherlands Rijksmuseum voor Völkenkunde.
Full Description
Much has
transformed our understanding of Southeast Asian prehistory in the last forty years. What you thought you knew is history and the ties that bind the Philippines, Malaysia, Indonesia, Madagascar, the Pacific islands, and mainland Southeast Asia can now be traced to the big bangout of a homeland in Taiwan some 4,500 years ago. While archaeology had previously established irrefutable connections among peoples of these regions, more recent advances in historical linguistics and molecular genetics have provided an approximate time line for the rapid dispersion of what archaeologists describe as colonizing farmers. This publication will focus on art and artifacts, features that stand witness to these peoples relatedness today. Much scholarship in the last fifteen years has focused on new ways of looking at the origins of Austronesia. It was widely believed - and taught in schools - that the different waves of migrations that peopled the islands of Southeast Asia (Philippines, Indonesia, Malaysia), as well as Melanesia, Micronesia, and Polynesia, originated out of the Sunda Shelf (south to north) by groups traveling on outrigger boats. In recent years, the work of many scholars, not just linguists and archaeologists but also social anthropologists, geneticists, paleoanthropologists, and environmental scientists, show that the ancestral origin of these peoples were in southern China and Taiwan (north to south), with the roots of their languages still traceable to Taiwan and the Philippines. This publication will broaden the scope of this particular north to south discussion by focusing on artifacts (ethnographic evidence) that stand witness to the Austronesian Heritage.
Contents:
Overview: The Austronesian Heritage Finding Ourselves in Island Southeast Asia; Taiwan Jade in the Philippines: 3,000 Years of Trade and Long-distance Interaction; Dong Son Bronzes: The Indonesian Archipelago during Proto-Historic Times; Local Bronze Casting Traditions in the Islands; Towards an Integrated Comparative Study of Austronesian Cultures; Maritime Images and the Austronesian Afterlife; A Three-Part Universe; Architectural Space in Island Southeast Asia; Guardians, Ancestors, and Other Spirits; Squatting Figures of the Austronesian World; Untangling the (Abaca) Knot: A Kinship of Fiber, Color, and Loom; Textiles of Southeast Asia and the Pacific.
Specifications
Publisher

ISBN

9789719429203

Published

19th Aug 2011

Binding

Paperback / softback

Territory

USA & Canada

Size

9.14 in x 10.90 in

Pages

280 Pages