A new website for ACC!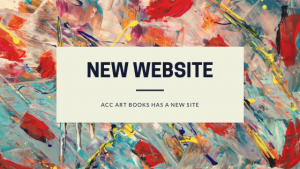 Not long ago we refreshed our look and developed a strong brand identity, working with Webb & Webb Design. Now we're launching a fresh new website, created with the help of Infotex.
Alongside all the information that was available before, you'll see a whole range of new features. We've worked hard to make everything clearer and simpler to navigate, and we hope you find the new additions useful and interesting — whether you're an avid book buyer, a trade partner or a casual visitor.
As well as full details of everything published by ACC and the many fine publishers that we distribute, we'll be adding more material over time. Among other things, you'll find news of major exhibitions and events related to our books, blog posts, and details of media coverage.
You will notice that we no longer take orders directly through our website. We encourage customers to use their favourite bookseller instead. However, if you need assistance, please email [email protected] or give us a ring on 01394 389950.
Please explore our new site, join our mailing list and, if you wish, set up your own personal profile. We hope you like it as much as we do!