The Arts Bridge Space opens in Shanghai
'The Arts Bridge Space', a new bookstore opening in a trendy Shanghai location, looks immediately set to join the ranks of the world's most exciting book spaces.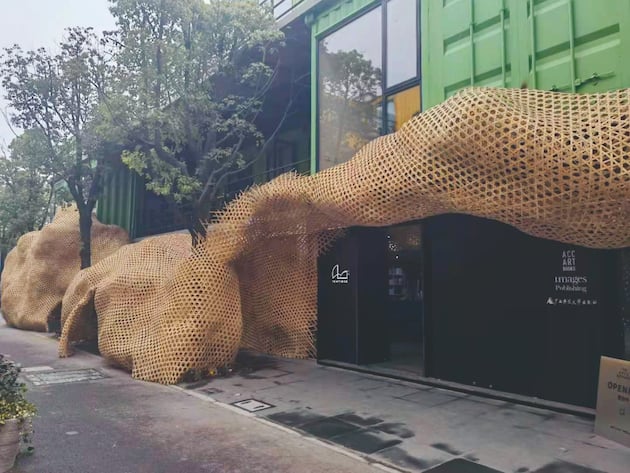 A collaboration between Guangxi University Press, ACC Art Books and Images Publishing, the store will host numerous artists and designers for exciting events and exhibitions.
As an exhibition space it will sell original artworks and design products, also offering an extensive range of books, drawn primarily from ACC Art Books and Images Publishing's works, alongside those of their partner publishers, including London's Royal Academy Publishing and Tate Publishing, New York's Abbeville Press and numerous European and Asian publishers, such as Lannoo from Belgium, Emons from Germany and 5 Continents from Italy.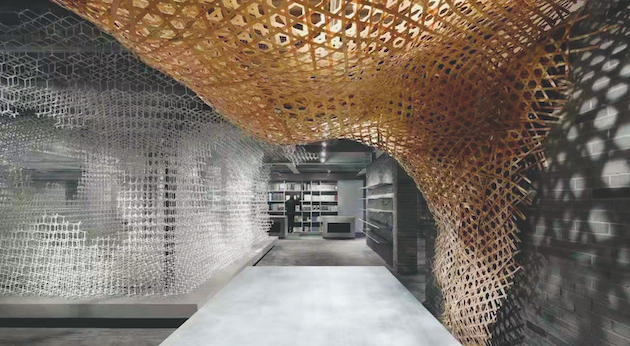 The store is designed in an eye-popping style and incorporates a spacious outdoor area, a cafe and a 3D printed reading room.
It is all housed in a series of reused shipping containers, while the entrance is enveloped in a bamboo installation that also winds its way into the shop interior. An impressive weaved structure (by designer Liu Qianxing), it combines traditional craftsmanship and natural products to form a stark contract with the post-modernist style of the complex itself.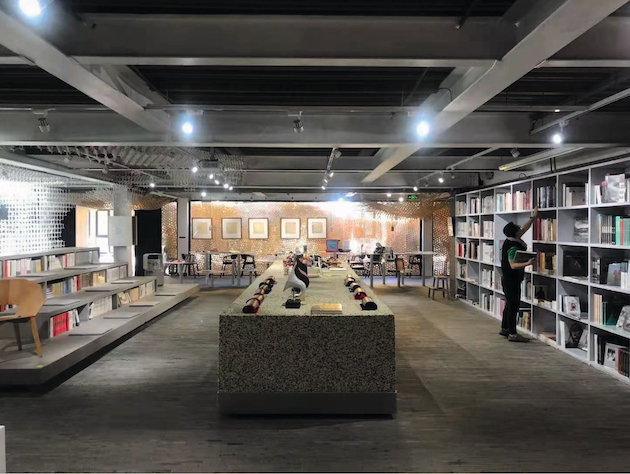 The interior echoes the bamboo installation of the exterior in the form of Yang Mingjie's "Y-Frame Virtual Landscape", which uses a repeated Y-shaped structure to create a complex visual space inspired by the West Lake, the most iconic site of Yang's hometown, Hangzhou. The perfectly repeated forms combine into an organic overall shape that embodies the process of coming from nature, imitating nature and returning to nature.
The  3D printed reading room is made of concrete by the pioneering architect Xu Weiguo and his Beijing-based firm DADA, who are leaders in the field of digital architecture. An alternative type of concrete, made from recycled concrete and natural fibres and devised by design firm Bentu also features throughout the shop as furniture, display shelves and smaller products for sale, such as wireless phone chargers. As such, the space is far removed from the traditional bookstore.
For ACC and Images, who focus their publishing on the art, architecture and design world, the space champions many of their collaborations with artists and designers from China and the wider international community. Both publishers have produced books in collaboration with the many designers and architects involved in the creation of the space, and will work with artists who exhibit in the space in the future.
Describing the collaboration, James Smith, CEO of ACC and Images, said: "This is an incredibly exciting and a huge step in further enhancing our reputation in China and that of our partner, Guangxi University Press. Book sales in China have remained bouyant throughout the pandemic and look certain to grow significantly in the coming years. We have been building our reputation in China for some years and this new space is a very public demonstration of our commitment".
The first exhibitions in the new space will include 'Made in Shanghai', a display of Shanghai-based product and industrial design; an exhibition of the traditional Chinese musical instrument Guqin in conjunction with the Palace Museum Beijing; and a display of nature-themed artworks from the renowned book designer, Zhu Yingchun.
Each of these exhibitions will be accompanied by new publications, special events and lectures open to members of the public.